Smart-looking guttering will give your home a neat exterior and protect the structure and foundations from damp. But can you paint gutters? In this article we will explain why some systems require regular painting to protect them from rust and corrosion while others will never need painting at all. If you want to invest in gutters that look after their own looks, you may want to jump to the bottom section of this feature.
Aluminium, steel and cast iron guttering is often painted for visual appeal. However robust the metal, a good paint job will help to look after the surface of the gutter and afford it better protection from rust. While early signs of corrosion, particularly with cast iron, can be simply tackled with a wire brush and touch-up with a neutralising paint, more extensive work will be required if a previous coat is flaking or peeling.
This can be a laborious job. If you want to do the job properly, you may want to consider removing your gutters and then reinstating them. Many people ask us if you can paint plastic gutters. The answer is yes but, if you buy wisely, you will never have to. Rainwater systems should always be regularly inspected and any problems quickly remedied. Damaged or unsightly looking guttering should be carefully repaired or replaced.
Painting metal gutters
You can paint metal gutters yourself. Make sure you have a good ladder to reach the guttering and decide in advance if you plan to remove sections or carry out the work in-situ. Before you start, make sure you have cleaning materials because the system will need washing down before you can do anything else. We recommend a mild detergent or even just lukewarm water. Clean the surface so that no dirt or debris is left clinging to the surface of a gutter. A brush is a good idea if you want to make it easier to remove baked onn grime.
Once you have completed the cleaning stage, you will need to get ready for some hard graft. Metal gutters will need sanding down and priming before paint is applied. Strip off any remaining paint and then use sandpaper or a sanding tool to give you a smooth surface. Repair any holes before moving onto the next stage. While really tedious and time-consuming, sanding down is an essential part of the job - if you want a long-lasting and aesthetically pleasing finish.
An oil based paint with a gloss finish may not require priming. Be aware that some paints may contain chemicals not recommended for use on metal. If you are not sure, buy a paint specifically manufactured for metal and ensure it includes anti-rust properties. Although long-winded, maintaining metal gutters will keep them in good condition for longer - so painting is recommended.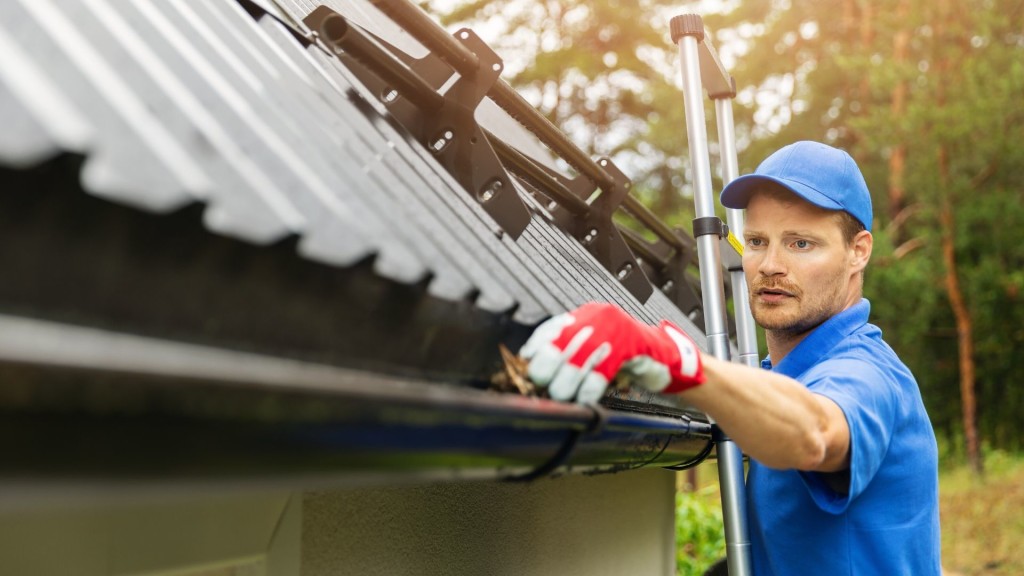 Can you paint plastic gutters?
Plastic guttering can be painted. In fact, all it takes is a quick clean and a coat of oil-based gloss paint. While a quicker job than painting metal gutters, it is still a chore and something many homeowners like to avoid. One of the biggest reasons why property owners decide to paint plastic gutters is because they have either invested in or inherited a system that has no UV protection. Gutters without UV stability will quickly lose their colour and deteriorate.
If you want to avoid the hassle of having to maintain the aesthetics of plastic rainwater systems, we recommend you buy gutters with built-in UV protection. This will ensure your guttering will never need painting because it will retain its finish for decades. What many people don't realise is that modern plastic gutters are manufactured to last for up to 25 years - without the need for any painting or treatments whatsoever.
Sound good? If you are not yet ready to replace your gutter system, we recommend you follow the same instructions, set out above, for cleaning metal gutters - just ignore the sanding down and priming parts. It is worth pointing out that correct use of ladders is paramount. In the UK, around 40 per cent of falls from height happen from ladders. The Health and Safety Executive says this accounts for more 'at height' accidents than anything else. If you are not confident about using a ladder, get someone else to do the job for you or invest in a low maintenance gutter.
Low maintenance guttering
We know a thing or two about low maintenance guttering. We are the UK's leading independent supplier of uPVC gutters. As well as never needing a coat of paint, they are manufactured to endure the elements whatever the weather. They won't rust, peel, flake, or lose their 'as new' finish. A smart buy for refurbishment projects, home extensions and new builds, they negate the need for time-consuming work up a ladder and reduce risks around the home.
Completely leak proof, our guttering is designed to perform for years. Durable and affordable, they it is also easy to install. If you are looking for a low maintenance system that reduces the need for any kind of repair, take a look at our gutters and fittings. We stock the widest range of products, including guttering with larger flow capacity. Choose from round, square or ogee profiles - and essential accessories to match.
As well as being UV stable, our products are available in a range of finishes. Choose from white, black or brown. Accessories are colour-matched to ensure a consistent overall look. If you are planning to replace gutters, take a look at our cost-effective products and their many benefits.
We supply guttering to customers across the UK. When you shop with us, we deliver your order directly to your door - so you save time from the word go. The ongoing benefits mean you spend less time up a ladder and more time just getting on with and enjoying your life. Gutters play a vital role in protecting a structure from rainwater. But, increasingly, they are being used to enhance the appearance of a property's exterior. Discover what you can achieve with uPVC guttering today.