Looking to install guttering but not quite sure how to go about it? Gutters can be fixed by DIY enthusiasts quickly and cheaply. If you are investing in modern, long-lasting PVC guttering, this guide will ensure you don't make any of the common mistakes. In general, the installation process is straightforward.
Whether you are looking to save a few pennies or want to ensure the job is done right, this information will set you on the right course. Before you follow any of the instructions, calculate the amount of guttering and accessories you will need. Don't overlook necessities like brackets, downspouts, angles and connectors. If you are on a tight budget and don't want the hassle of maintaining gutters, invest in a low maintenance option like plastic products. Bear in mind, some metal guttering will require sanding down and painting every couple of years.
Experts here at Building Plastics Online say gutters that extend beyond 12 metres will need to be pitched downwards from the centre and attached to downspouts both ends. They point out that brackets should be fitted to alternate rafter tails. The specialists also advise anyone undertaking a gutter project to pay attention to safety guidelines for working at height.
Before you install a new gutter system
We recommend you thoroughly inspect the roofline of your property before you install guttering. Take a close look at fascias and soffit boards. This is important because these materials support your gutter system. If they are showing signs of rot or are warping – not uncommon with timber products – replace them with modern uPVC alternatives. These will withstand the British weather and retain their looks much better than susceptible wood.
Once you are sure your roofline is sound, it is time to measure out the slope of your gutters. This is important to ensure water is effectively channelled away from your property. Remember, gutters will only be effective if they are installed at a gentle, downward slope to the downspout. Measure the slope carefully and use chalk or a water-based paint to guide you. As a rule, short guttering should be installed with a tilt, with one end higher than the other. Longer gutters, as previously stated, should tilt from the middle to two lower edges to downspouts.
Start by chalking the highest point on your fascia board. Do this under the roof flashing and leave a gap of one and a quarter inches. Once you have done this, mark the point where the gutter will end and meet a downspout. This should be at the corner of the fascia. Consider at this point if your downspout will service more than one gutter. From your high point, chalk down half an inch every 10ft. Use a tool with a straight edge to achieve a good, level line.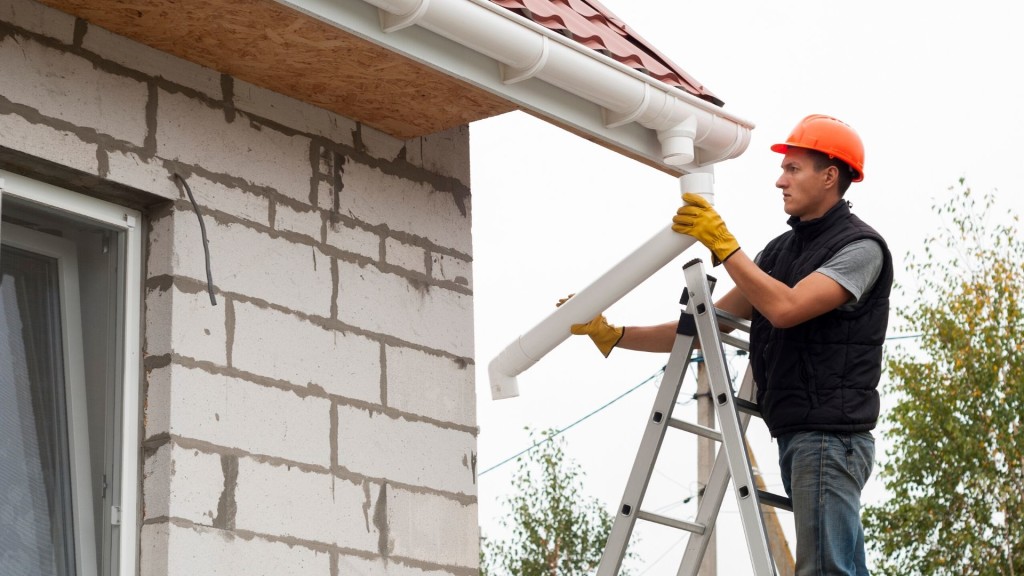 Sizing and cutting new gutters
Carefully measure the lengths of guttering you will require. Measure twice to be on the safe side. Once you are confident with your measurements, you can cut the gutters. We recommend you do this with a fine-toothed saw or hacksaw for a clean edge. Consider at this point if your gutters will need to finish at an angle. There are products available to make angles effortless, particularly where gutters and downspouts meet.
Once your guttering is cut to size, it is time to fix your brackets in place. Space them evenly and, if you want to make the process easier, you can drill starter holes in every other rafter tail before you begin. Modern guttering benefits from snap-on brackets as well as other types to ensure there is a fixing for every project type. If you feel you may need some technical advice, buy your guttering from a supplier that offers free support.
Use a saw to cut the downspout opening on the gutter. Now fix the downspout connector in place. Don't neglect to ensure you use an endcap. We recommend you use a waterproof sealant, such as silicone, in addition to any fixings recommended by the manufacturer, such as screws.
Installing your gutters
Now you can install your new guttering. Fit the lower end in place first. You can achieve the right angle by tilting the gutter. Don't be afraid to ask for some help with this. And don't take any risks with ladders. Your gutters should snap neatly into place. Some professionals seal corners with strips. Check the manufacturer's guidelines to see if this is recommended for your gutters.
You can now connect your gutters to the downspouts. You can do this with a universal connector or product designed for your gutter system. Once you have done this, you can attach the downpipe to the outlet.
For a robust, leakproof finish seal all connections.
Where to buy guttering
You can buy long-lasting PVC guttering from Building Plastics Online. Tough enough to last for decades, its gutters are available in a range of profiles and finishes. Buying online is low cost, convenient and quick. This is the company delivering gutter products to homeowners and businesses across the UK. In fact, its nationwide delivery service knocks spots off having to go shopping for gutters yourself.
Simply browse the full range, including accessories, order and pay – and just sit back. Your products will be delivered in one to three working days. Building Plastics Online is a guttering expert and provides valuable free technical support. So, if there is anything you are unsure about, you can get the right answer to your question. Effective guttering is essential to protect your home. As well as keeping your structure dry, it looks after the ground around your home and its foundations.
If you are looking for an affordable solution that also delivers quality, PVC guttering is a savvy choice. It lasts for a quarter of a century and is designed to withstand the elements, including damaging ultra-violet light. Take a look at what is in store at Building Plastics Online and get your new gutters from an expert supplier that is committed to quality and low prices.