The average homeowner will invest in gutters without considering if deepflow guttering is the best option for their property. Typically, the ordinary person in the street will view a gutter as just one of those things every building has to have. They won't look beyond the obvious functionality of a rainwater system. More often than not, the humble role of a gutter will go largely unnoticed – until there is a problem.
Because modern PVC guttering is manufactured to last, most homeowners will only ever fit new gutters to their property as a one-off. Experts suggest that this is the perfect time to assess whether or not guttering should be replaced like for like. Reviewing the performance of existing gutters may reveal some shortcomings that can be addressed. Many DIY enthusiasts spend a lot of time pondering over the style and colour of a gutter without thinking twice about its capacity.
The deep flow gutter is often overlooked. Yet this high-performance alternative to other types of gutter is starting to gain momentum. Not least because it offers more depth without taking up much more width. The difference may sound subtle, but deepflow guttering has many benefits.
Benefits of deep flow gutters
The average deep flow gutter is approximately 20mm deeper than bog standard guttering. This has the obvious benefit of providing your gutter system with more capacity. Most deepflow guttering can deliver capacity levels that offer double the flow rate of the traditional half-round gutter. It offers enhanced rainwater removal while still being aesthetically suitable for the average UK home.
Deeper gutters are generally available in four metre lengths. Accessories and connecting pipe fittings are widely sold to make this type of guttering especially easy to install. Along with size-match fascia brackets, you will find everything from unions, running outlets, stop ends and more to make DIY installation straightforward.
Modern deep flow alternatives to traditional guttering are manufactured from PVC because of the material's ability to withstand the elements. If you want to go for a finish that makes a design statement, this plastic option offers long-lasting colour with UV protection.
Deepflow guttering to combat climate change
The UK is seeing weather systems that are becoming ever more extreme. Heavy rainfall and flooding are now commonplace. The impact of increased rainfall can include the failure of gutters. Primary causes include systems not designed to cope with such high capacity and a failure on a homeowner's part to properly maintain guttering. All gutters should be inspected and / or cleaned at least twice a year. If a property owner fails to take the necessary steps ahead of winter, problems are much more likely to occur.
Installing deep flow guttering will better prepare a home for weather events. They ensure even the heaviest downpours don't end up soaking the ground or running down walls. Another big benefit is that deeper gutters are installed in exactly the same way as other gutter profiles – so property owners don't have to reinvent the wheel to get the job done.
Because of their propensity to shift large volumes of water away from the structure and foundations of a home, deepflow gutters are now widely recommended by house builders and architects. They can be retrofitted too, so it is always a good time to upgrade.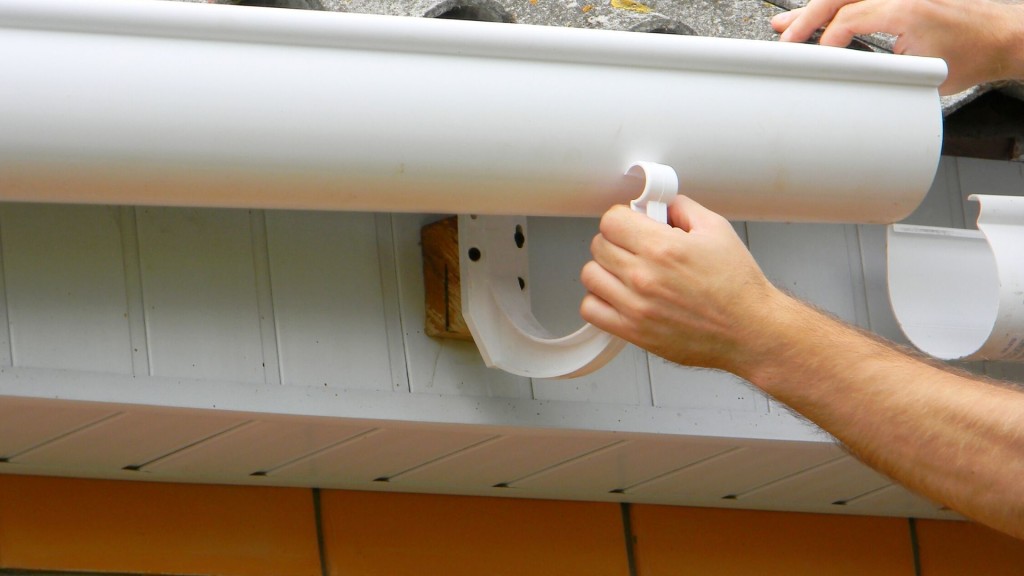 UK weather patterns
The Met Office says statistics show the UK is getting wetter. Rainfall totals for some periods are four per cent up on figures collated just a few decades ago. The number of 'extremely wet days' is up by 17 per cent compared to 1990. Experts point to studies that suggest climate change is responsible for increased flood risks.
Predictions for the future indicate dry summers and wetter winters. This makes the right choice of guttering especially relevant for homeowners. Choosing a system that will cope with fluctuations is important, particularly in the context of changing weather patterns. Homes in wetter or more exposed locations would benefit from higher capacity gutter systems.
While high-tech climate models can capture data that predicts extreme weather events, they won't help a property if its guttering is poorly maintained or simply not deep enough to cope with flow rates.
Buying new guttering
When investing in deepflow guttering, take the time to shop around. Many online suppliers offer the best deals. In addition to providing choice, they will also deliver your purchase to your door. Specialist suppliers will also provide free technical advice to make the installation process hassle-free.
If you are not sure whether or not deep flow gutters are right for your home, talk to an expert. Take a look at the dimensions available and work out how a new gutter will look – as well as perform – on your property. By buying wisely, you will better protect your investment from water damage and improve the visual appeal of the exterior of your home.
Because the weather is unpredictable, there is never a bad time to upgrade your guttering. This type of job can be carried out whenever the weather permits. If you are planning a spot of DIY in the near future, consider early spring. However, if your gutters are performing poorly or have developed leaks or other weaknesses, get the job done as soon as possible.
It is no coincidence that deep flow gutters are becoming more popular. They offer greater protection from heavy rainfall and are surprisingly inexpensive. If you are looking for an economical way to beef up the guttering on your home, choose a system that will cope with any event. That way, you won't be stuck with an ineffective solution.
Don't forget deepflow gutter fittings can be purchased from most suppliers – so you can source everything you need for a better, tougher system from one place. Just remember to maintain your new gutters once you have installed them and you can look forward to many years of trouble free guttering.
Home maintenance is easier if you invest in the right roofline products. Visit our website to learn more about deepflow guttering and the products available.