In this feature we have decided to focus on the question 'Why is my gutter leaking?' because it is a common question that is rarely answered in full. If you don't regularly inspect your gutters, it may come as a surprise to find water running down an exterior wall. We recommend guttering is checked a couple times a year. If you struggle to find the time, ask someone you trust to do it for you.
Almost every home in the UK has guttering. That is because it performs a crucial role in protecting properties from rainfall. Ensuring your gutter system is leakproof is pivotal if you want to avoid problems that can impact the soundness of your structure and its foundations. Regular checks will keep repairs to a minimum and ensure water is safely channelled to drains.
It doesn't matter why type of guttering your home has, it needs to be regularly cleared of debris to avoid a blockage. Staying on top of simple maintenance tasks will save you not just money but avoid the potential for problems with damp. To help you understand the causes of leaking gutters, we have put together some useful information.
What causes gutters to leak?
Before you experience a gutter leak, ask yourself when your gutters were last cleaned. The truth is that guttering kept free of debris will perform better and last longer. As a leading supplier of PVC guttering, we suggest a simple visual inspection every three months and cleaning as and when necessary (see below for more information about how often gutters should be cleaned). Blocked gutters are the most likely to suffer damage and fail.
Blockages can occur in either the gutters or downspouts. Most often, these blockages are caused by debris from nearby trees, such as leaves and twigs. But birds too can cause blockages. They will often nest in gutters. Another common problem that affects most guttering at some point is the prevalence of moss. The first sign of a blocked gutter is, sadly, a leak or a damp patch in your home – if you don't keep on top of maintenance.
Other causes of leaks in guttering include problems associated with gutter joints. Check seals to ensure any signs of wear or damage is quickly repaired. Sometimes, debris washed along a gutter will settle in a degrading joint and cause further problems. Check your guttering for any signs of sagging. Heavily blocked guttering can sag under the strain and this poses a potential hazard. If your guttering is sagging but appear to be free of debris, check to ensure brackets and other fittings have not worn or corroded.
Fixing a leaking gutter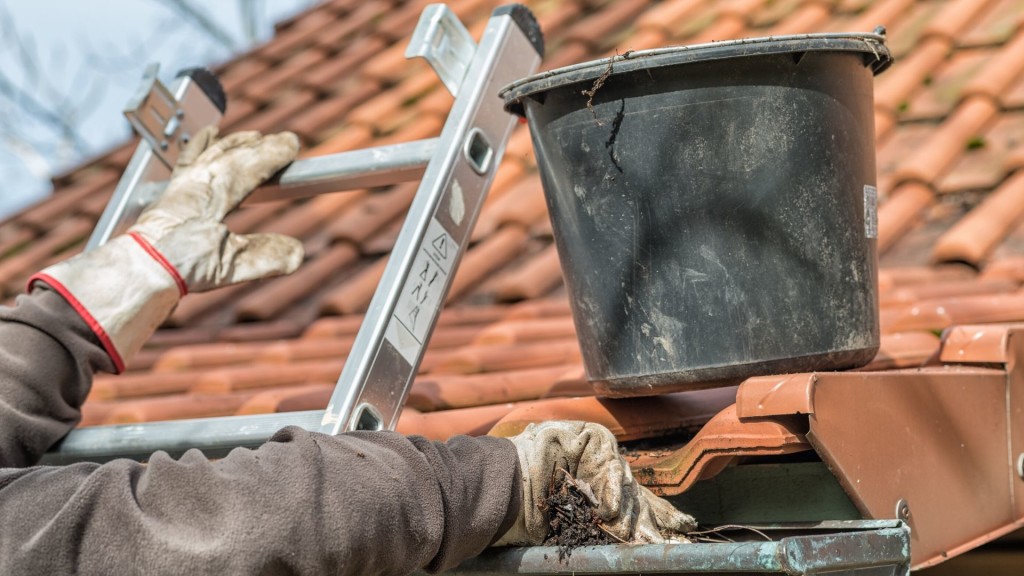 Many DIY enthusiasts repair their own gutters. While it is always advisable to call in a professional if you are not accustomed to working at height, simple repairs can be undertaken by just about anyone. Be sure to follow safety guidelines for using ladders. If you want to tackle the problem yourself, we recommend you have the following to hand:
A good ladder with safety features

A water hose

Garden gloves

Long, rigid wire

A container or bag to deposit debris in

A plastic spoon for removing debris (you can use metal if you are clearing cast iron, copper or aluminium gutters)
Visually check your gutters at close quarters to identify where a blockage has occurred. Position your ladder so you have safe access to the debris and then remove it with the spoon, putting in your container as you go along. Take away the biggest blockages first. If your problem is in a downpipe / downspout, use the rigid length of wire to dislodge it. You can use your garden hose to run water through the pipe to ensure it has all washed away.
During this process, check that water is not escaping from the pipe. You can also do this with your gutters. Any leakages will quickly become apparent. Any leaking joints should be repaired with sealant or replaced. If you are using sealant, ensure the joint is not clogged with debris.
How often should gutters be cleaned?
We recommend you clean your gutters once every 12 months. Try and carry out this task at the end of autumn. This way you will remove leaves fallen from trees and prevent problems during the winter months. Give your guttering a good visual inspection at the start of spring too. They shouldn't need to be cleaned again, but it is better to be on the safe side. You may want to check that bad weather has not dislodged any brackets. Insurer AXA explains the importance of gutter maintenance here.
Low maintenance gutter solutions
While all gutter systems will need cleaning from time to time, you can reduce the time you spend on maintenance by investing in the right type of gutters. Some traditional guttering requires painstaking maintenance that can include sanding down and painting. If you currently have gutters made from cast iron, you will know what we mean.
For a long-lasting, low maintenance solution invest in modern PVC guttering. As well as being easy to maintain, it is low cost and likely to last at least two decades. More aesthetically pleasing than paint-peeling metal, it can really lift the look of your roofline while performing an important function.
At Building Plastics Online, we stock the full range of guttering and gutter accessories. Choose from square, round and ogee shaped gutters and buy everything else you need at the same time. With one of the largest selections of PVC guttering in the country, you will find everything you need to ensure your home is protected from rainwater all year round.
Our online shop offers nationwide delivery and free technical support – so you will never have to worry about buying the wrong product. A leaking gutter can cause serious damage to a home. If you are concerned that your guttering is no longer up to the job, take a look at our affordable solutions and give your property the protection it deserves. We supply high quality guttering to homeowners, trades and businesses. Finish options include white, black and brown.